June 2015 blog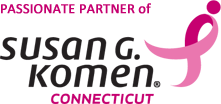 With Connecticut having the highest rates of breast cancer in the nation, Wile Hyundai is keenly aware that many of our customers may someday face the dreaded C-word.

Wile truly considers all of our customers family, and like so many family members out there whose loved ones have been diagnosed with cancer, we found ourselves asking… how can we help?

Donating money is always super crucial. A cure, or even a preventative therapy, will never be discovered without research and proper funding. With this in mind Wile Hyundai will be donating to the cause of finding a cure for breast cancer every single month.

We fully believe that the only way to prevent, treat and stop cancer is to do it together, as a community. Our community means everything to us so we want to do even more than the monthly donation to help the people we consider family.

By choosing to partner with the Connecticut chapter of Susan G. Komen, Wile Hyundai will be available for men and woman suffering breast cancer in a different way.

We will be available to provide transportation to individuals in need of treatments, screenings, therapy, etc.
Wile Hyundai is so proud to be able to assist in any way we can and be involved with Susan G. Komen Connecticut. We are honored to be able to help the brave men and woman of our great state in any way we can.
To listen to our commercial, please click the player below